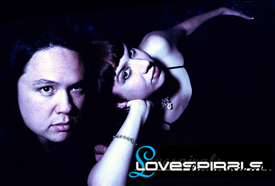 LOVESPIRALS
In 1999, Lum began working with new collaborator, Anji Bee, under the shortened moniker of Lovespirals. The duo's first release for Projekt was a cover of John Denver's song, "Apsenglow," for the Excelsis 3 ~ A Prelude holiday compilation in 2001. Their debut album, Windblown Kiss, was released by Projekt in 2002, shortly after the duo headlined the opening night of ProjektFest 2002. Subsequent albums Free and Easy, Long Way From Home, and Future Past appeared on their own Chillcuts label. Lovespirals have also released a number of digital-only EPs, remix collections, and singles on various labels, including the dance chart topping Damien.S VS Lovespirals "This Truth" single released by Loverush Digital in 2009.
MELODYGUILD
Perry formed a new group called Melodyguild in 2002 with Matt Gleason and John West of the The Von Trapps and Nicholas Pallos of The Battle of Lake Erie. In 2003 West was replaced by The Von Trapps founder, Rodney Rodriguez – who had appeared on Love Spirals Downwards' final album and concert in 1998. In 2004, Projekt released a cover of Danny Elfman's "Sally's Song" that Perry recorded with Cris Miller of Silver Screen as Melodyguild on Holiday Single 2. In mid-2008 Projekt released the debut Melodyguild EP, Aitu, which had been recorded with the original band lineup in 2003.

LIQUID STATE

Jennifer Ryan Wilde, who contributed to the band's 1994 album, Ardor, and whose performance was reprised on the 1998 release, Flux, returned to music in 2005 with the formation of Liquid State. Their debut album, Late Bloom, was released in 2008. Wilde is currently writing and recording solo music as A January Girl.