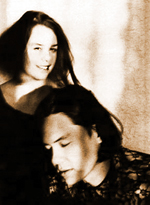 Love Spirals Downwards was begun in the late 80's by multi-instrumentalist and producer, Ryan Lum, but didn't truly take flight until the addition of then-girlfriend, Suzanne Perry, as vocalist in 1991. Two of their demo tracks ("Mediterranea" and "Forgo") were featured on the From Across this Grey Land 3 compilation, garnering international attention from fans and critics alike, and sparking their career as one of Projekt Records' most successful artists to date.
Over their 8 year history, Love Spirals Downwards released four 10,000+ selling albums; Idylls (1992), Ardor (1994), Ever (1996), and Flux (1998), plus 1 single, Sideways Forest (1996), and 1 retrospective collection Temporal: A Collection of Music Past & Present (2000), incorporating the styles of Ethereal, Shoegazer, Folk, World, Ambient, and Electronica to create a Dream Pop sound uniquely their own.
Listeners have long been fascinated by the mysterious vocals of Perry, who is considered to be a classic singer of the Heavenly Voices genre. Many of the band's songs are lyrically composed of nonsense sounds devised to feign Middle Eastern and Roman languages. A few, such as "And the Wood Comes into Leaf" and "This Endris Night" are simplified reworkings of Medieval songs. Other lyrics, while in modern English, still leave quite a bit to the imagination, which is how they prefer it.
Dissatisfied with current trends and styles in much of today's pop music, our music is a unique blend of what we find to be aesthetically pleasing. To us, our music transcends any one pigeonhole categorization into one particular style or genre. Elements from East Indian music, psychedelic rock, and ethereal – among others – can be found in our music. In creating atmosphere, we meld "exotically" tuned and processed acoustic, as well as electric, guitars with female vocals and percussion. In breaking with more conventional vocals, we completely abandon the use of language as a conveyor of thought and emotion in hopes that the entire musical piece, instrumental and vocals, work as one artistic expression.
— Love Spirals Downwards, 1991
Primarily a studio recording project, the duo performed live only rarely — generally in conjunction with Projekt Festivals — and almost always acoustically. Love Spirals Downwards' last live show was in 1998, in support of their final studio album, Flux.
In 1999, Lum began working with new collaborator, Anji Bee, under the shortened moniker of Lovespirals. You can read more about Lovespirals in the Current Musical Projects section.
In 2002 Perry formed a new group called Melodyguild with Matt Gleason and John West of the The Von Trapps and Nicholas Pallos of The Battle of Lake Erie. You can read more about Melodyguild in the Current Musical Projects section. Perry has also contributed vocals to several songs by Falling You included on albums released in 2006 and 2008, including the NAR award-winning album, Human.
In late 2007 Projekt released Love Spirals Downwards' out-of-print debut album, Idylls, and follow-up, Ardor. These beautifully redesigned digipac CDs have been completely remastered from the original DAT masters along with extra material including live recordings, compilation-only tracks, and out-takes from the original album recording sessions selected and assembled by Lum.
2008 marked the 10 year anniversary of the duo's final studio album, Flux. Watch for remastered reissues of Flux and Ever on Projekt in the near future.